pureLiFi win Digital Trends MWC Cool Tech Award
We're pleased to announce that Digital Trends have awarded pureLiFi the Mobile World Congress (MWC) "Cool Tech" Award.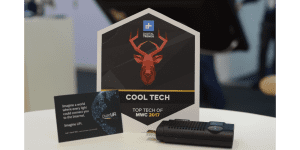 Digital Trends journalist Simon Hill Says
"PureLiFi continues to work on miniaturizing the technology, improving the power efficiency, and boosting the speed, and we expect to see it evolve beyond dongles to be integrated into devices like smartphones in the next few years. This exciting technology could transform the way we access the internet."
pureLiFi attended the 2017 Mobile World Congress (MWC) from the 26th February to the 2nd of March 2017.  MWC is the world's largest gathering of the mobile industry, and pureLiFi garnered attention from journalist, and industry alike.
As part of the Scottish Development International Contingency pureLiFi revealed world's first LiFi Luminaire at MWC for the first time.
Read more about the MWC Cool Tech Award: http://www.digitaltrends.com
Read more highlights of pureLiFi's exhibition at Mobile World Congress 2017: